Adrienne
Pet Director
Adrienne, Adg, our Ooga Booga left this earth on Friday, May 14th, 2021. She came into our lives when we least expected and made and imprint on our hearts forever.
Adg, had a rough start with her first owner. We picked up the pieces and after a few years of building trust she blossomed into one of the sweetest, most gentle, and loving dogs ever. She will probably be the only dog we will have that wanted us to walk in the door first.
Some of Adrienne's favorite activities that we will remember the most are barking at birds, chasing Mallards out of the pool, floating on rafts, swimming with family, and sunbathing.  When Adrienne wasn't in the water, she was playing lifeguard, always following little kids closely, and making sure no one ran around the pool. She gave the best hugs, and never stopped smiling. She strived to please us constantly and with her love and companionship she never had to try hard. Adrienne had a grace about her. The type of grace that one demonstrates when they are truly at peace.
Our Ooga Booga will be missed by many people, but mostly her parents. She has been with them through thick and thin and was always a hairy hug away. While we feel great heartache, we know she is up in heaven chasing squirrels and sunbathing with her big sissie poo Lexie.
Adg, leaves behind her parents, Darren and Lindsay, her fur sister Maggie, and her little fur pup brother, Auggie. She joins her big sister Lexie who was her bestest of best friend.
RIP baby girl. You were our favorite hello, and our hardest goodbye.
---
No Visitation Information Available
---
No Funeral Services Information Available
---
---
---
A candle was lit by Gloria on 05/14/2021 23:16:33
A candle was lit by Gloria on 05/14/2021 22:06:35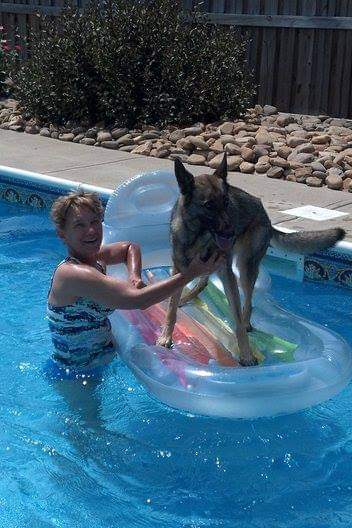 Image was uploaded by Gloria on 05/14/2021 23:17:35
We recommend Tolen's Florist of Speedway for all your flower, gift and arrangement needs. 
Their information is noted below for your convenience.
Tolen's Florist
1534 N. Main Street
Speedway, IN 46224
Toll Free: 800-736-7080
Local: 317-241-1967
Website
Photographs
---